Xiangqi (Chinese Chess) Matches with English Commentaries
One of the best ways to learn Xiangqi is to see how the experts conduct their games. If there were commentaries to help explain the moves or even better, the line of thought behind each move, it would be a pleasure to view a good game that has been played. It would also be the best way to pick the mind of a master or grandmaster and see how he/she approached a particular position.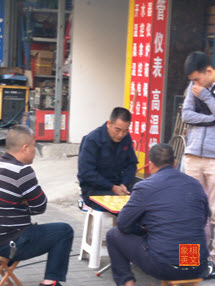 While there are literally tens of thousands of matches with commentaries in Chinese, matches with English commentaries are still a relative rarity in Xiangqi. This issue is one that the Webmaster has strived to change for the past decade to the best of his abilities. Over the years Webmaster has translated the commentaries for dozens of actual matches over the years.
The work that the Webmaster has done translating Xiangqi commentaries into English is presented into two versions: the CCBridge (interactive version) and videos which also have been posted on Youtube.
Interactive Xiangqi Boards (CCbridge Version)
The Xiangqi boards listed in this version are interactive. It means that you can view the games by pressing on the arrow buttons below the viewer. If there is a comment, it will appear on the box on the right. Variations and subvariations can be viewed on the right lower box if they exist.
This form of learning is best suited for folks who want to slowly appreciate and savour each game like a delicacy.
Note: For mobile users, it is best to view the Xiangqi CCbridge boards horizontally for the best viewing experience. The Webmaster apologizes for the fact that he does not know how to change the width or internal settings of CCbridge.
The links below will lead to pages full of commentated games by the Webmaster. It is perhaps the largest collection of commentated games in English on the Web. Click on to enjoy!
Uploads from 2012 (71 boards uploaded): 01 02 03 04 05 06 07

Uploads from 2013 (63 boards uploaded): 01 02 03 04 05 06

Uploads from 2014 (25 boards uploaded): 01 02 03

Uploads from 2015 (35 boards uploaded): 01 02 03 04

Selected best 5 games from 1959-1983.

Uploads in 2020: 01
Annotated Games by IM Chao Ifan
There are still several files of commentated games that the Webmaster has done but has yet to find at this point. These games with precious commentaries will be uploaded when they are located.
Short videos with English Commentaries on Youtube
For people who prefer to just sit back, munch on popcorn and just watch, the videos on Youtube with English Commentaries would be the best option.
Making a video takes up much more time than just showing the boards so there is much less content here.
There is also a video playlist on Youtube which is given below. The list of commentated videos will grow. If you like the work that the Webmaster has done, please give a thumbs up and like the videos so that he will have a direction or know what type of videos to better prepare!
What happens after watching the videos or CCbridge viewers?
For questions on openings, be sure to check out the Opening Section which the Webmaster is trying his best to fill in content.
For questions on endgames, please check out Tu Jingming's endgame dictionary on this website.
For more questions, you could take a screenshot and post to the Website's fanpage on Facebook. Click on the Facebook button on the right upper corner. There are a lot of Xiangqi experts visiting my fanpage and they could provide much assistance.
Enjoy!